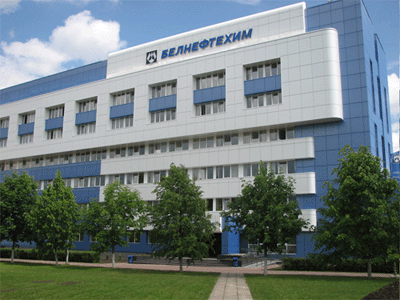 The Belarusian State Concern for Oil and Chemistry (Belneftekhim Concern) is one of the largest industrial complexes of the Republic of Belarus.
Belneftekhim was created in April 1997 and comprises enterprises and organizations for crude oil production, refining and transportation, oil product sales, chemistry and petrochemistry, several scientific, research and development, construction, repair and commissioning organizations, as well as a developed distribution network in foreign markets.
Belneftekhim manufactures over 500 kinds of petrochemical and chemical products.
Belneftekhim's enterprises perform a full cycle of works related to crude oil exploration and production, its transportation, refining and oil product sales.
Belarusian oil refineries feature a high technology level of oil refining efficiency and oil product quality meeting world standards.
Organizations of the petrochemical industry of Belarus produce:
mineral fertilizers (nitrogen and NPK);
over 300 types and sizes of tires in an amount of over 5 mln per year for cars, trucks and heavy haulers, buses, trolleybuses, road-building vehicles, tractors and farm machines;
polyester fibers and yarns;
low-density polyethylene both of base grades and compositions on its basis, as well as a wide range of acrylic fibers;
glass fiber and its products;
nylon fibers and yards, cord fabrics, as well as virgin nylon-6 and composite materials on its basis;
biodiesel fuel;
paints, varnishes and other products.
The present level of organization of production, continuous focus on technical upgrade and modernization of production facilities along with highly skilled workers and experts are the key components of stable work of Belneftekhim, which let the industry ensure a high technology and quality level of products.
All organizations of Belneftekhim work as per the system of international quality standards of the ISO 9000 series. As for the quality and environmental purity of motor fuel, the Republic of Belarus is the leader among the CIS countries. Much effort is being made for implementation ofenvironmental management standards of the ISO 14000 series and of the OHSAS 18001 occupational health and safety assessment standard.
A priority of Belneftekhim's investment policy is realization of investment projects with high and resource-saving technologies, which are aimed at producing export and import-substituting goods.
Products of Belneftekhim organizations are exported to more than 90 countries of the world. Over 70 per cent of products manufactured by the petrochemical industry are sold to foreign markets.
Further development of the distribution network, search of new business partners, active promotion of petrochemical and chemical products to foreign markets is a strategic activity of Belneftekhim.
"白罗斯石油化工"集团
优质团结
集团使命:
保障石油化工产业有效的创新性的发展条件以提高白罗斯人民福利水平。
战略目的:
以高质的产品满足社会需求。
在世界市场增强集团机关作的产品竞争力。
保持白罗斯工业在管理、技术、集体文化方面内成为惯例的高水平,鼓励后代继承性,加强员工职权和主动性。
协助各个地区社会稳定性,其经济进步,国家能源和生态安全。
关于集团
白罗斯国家石油和化工集团("白罗斯石油化工"集团)是白罗斯共和国最大的工业综合企业之一。
该集团于1997年成立,其组合采油,加工和运输,石油制品供应,化工和石油化工企业和机关,一系列科学,工程设计,维修和安装调试机构以及国外市场宽大的商品运销网络。
集团企业在白罗斯共和国工业产品总量中占四分之一以上的份额,在全国出口总量中占几乎一半。
生产组织现代的水平,不断的强调企业技术改装和现代化以及员工和管理员高端的资格成为集团稳定工作的组主要成部分,同时保障我们制造的产品高质技术水平。
属于集团的企业商品出口到全世界一百多个国家。石油化工综合企业制造的产品百分之七十以上在国外市场销售。
将来发展商品运销网络,寻找新的商务伙伴,将石油化工产品和化品积极的推广到外国市场作为集团战略经营方向。
质量,技术,一体化
集团生产五百多种石油化工和化工产品。
集团企业实行石油勘探和开采,运输,加工和石油产品销售相关的全套工作。
白罗斯石油加工企业具备高端的石油加工炼制技术水平,其石油制品质量符合世界标准。
石油化工综合企业生产下列的产品:
矿物肥料(含氮和含磷);
350种轮胎规格,产量一年五百万条以上,用于轿车和重型卡车,建筑及筑路用的、起重运输用的、农业机器和拖拉机;
聚酯纤维和线丝;
玻璃纤维和其基础上生产的制品;
聚酰亚胺纤维和线丝,帘子布类以及原聚酰亚胺6和其基础上的合成物;
生物燃料;
油漆涂料等产品。
所有的集团机构据ISO 9000系列国际质量标准系统,ISO 14000系列环境安全管理标准,OHSAS 18001职业安全卫生标准实行经营。公司已展开了按ISO 50001:2011国际标准要求运用能源管理系统的工作。白罗斯共和国在独联体国家生产的发动机燃料质量和生态洁净程度方面内占领袖地位。
投资:知识密集的节约资源的项目
集团投资政策重点是实施知识密集的节约资源的高新技术相关的投资项目,以出口和替代进口方向为主。